I'm going to be a MOMSHELL!
That's a mommy bombshell by the way 🙂 My goal for this year of getting my sexy back fits right in it. I'm doing well with the fitness part of it so far…gotta get the sexyfied/glamourfied part of it underway soon.
Hell, if these celebs can do it so can I! What do they have that I don't? personal trainer, personal chef, tons of money, loads of free time, nutritionist, private yogi, home gym, fancy gym membership, stylist, makeup artist, anything they want at their disposal  Whatever…
I'm gunna be a momshell despite all that crap.
This is my own personal challenge. But if you're interested in being a momshell too, you should check out ProjectMILF over at TOI and Pancakes blogs! They've got a great project they're setting up!
I'm setting mini fitness goals to help me stay on track.
I'm still figuring out what I'll give myself as a reward (along with the reward of seeing my body change) but I know I need some mini milestones to hit so I feel like "Yay, it's all worth it!"

This is just a random brainstorm of possible mini goals. I haven't really thought it through yet:
Be able to run a 5k on the dreadmill in under 30 mins
Fit into my old dark blue guess skinny jeans
Lose 2 inches from my waist
Lose 5 lbs (then 10 lbs)
Be able to do a damn pullup (then 3, then 5)
Be able to do 10 REAL pushups in a row with perfect form (then 20)
Be backfatless again
Look good in a bikini again (By end of may when we cruise!)
I dunno, I gotta think on it. But I definitely gotta make it back into those jeans…I used to live in them. They "know" my body. (Do you know what I mean?)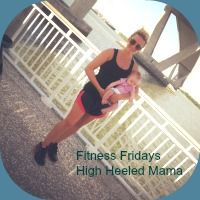 Linking up with High Heeled Mama this week for her Fitness Blog Hop – Go check her out!
This week I did:
Sun: Abs
Mon: Light Stretches/Yoga
Tue: Insanity
Wed: Failed to move 🙁
Thu: Insanity
Fri: Insanity or Jari Love dvd planned
Sat: Some DVD at my mom's house planned
My calves are sore. My weight is the same. I feel better about moving more though. Can't wait for a couple months from now when I see some results!
Pinterest is the best place to hunt down bite sized motivation:
How was your week fitness-wise? Are you gettin it in?!
Hope you have a great weekend!!