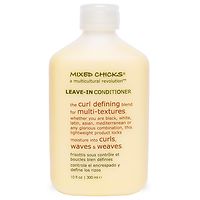 Mixed Chicks Leave In Conditioner Review
I'm kinda diggin' this stuff.  This was the second time I tried it.  I wanted some curl hold/definition without crunchies, and I almost got it!
The consistency of this product is a bit pasty/eggyolky… but I like the results.  It smells ok and spreads evenly through my hair.
I cowashed, left some conditioner in, moisturized and then applied the Mixed Chicks and let my hair airdry for a wash n go.  I was really happy with the results.  The top layer of my hair which seemed to get the most product, got slightly crunchy, but not mousse/gel crunchy.  It was just a bit firm, and had some hold.
I think I'll mix this with some moisturizer and apply them together on damp hair with conditioner left in and see what happens.
This product is a keeper for me.