I love hearing people's truths. Especially stories that could be extremely embarrassing but were able to be played off real cool like. That's why I'm excited to be a part of this sponsored post campaign from Glaceau FruitWater!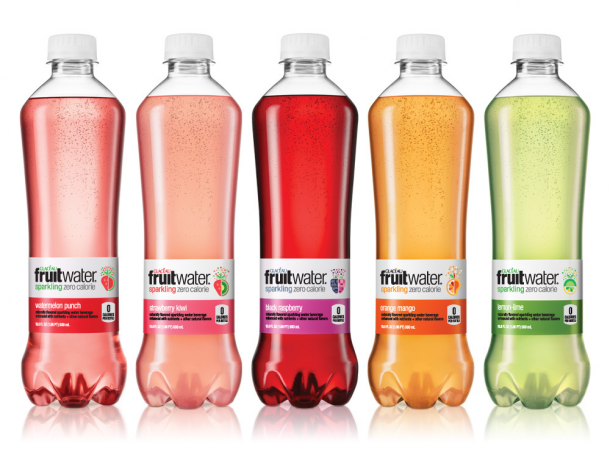 Glaceau fruitwater® is a great tasting, naturally flavored sparkling water beverage that contains no juice.
It comes in strawberry kiwi, orange mango, watermelon punch, lemon lime and black rasberry flavors, all with natural flavors. (John and I guzzled them all down pretty quickly. My faves were the two pink ones above!)
I sparkle on…
When Roey, at about 1 month old projectile vomited all down the front of my neck and chest in Penn Station, and I had no spare anything.
When I completely wiped out on an icy step (4 steps from the bottom landing) in front of about a billion people
When I did (what I thought was) a kickass audition…only to come out and have someone motion for me to fix my shirt, I look down and see almost an entire boob.  No wonder those auditioners were loving it!!
I've had more than my share of "oh my god did that really just happen, please god no no no" moments, but I just Sparkle on!! Honestly, what can you do? If you take yourself too seriously you'll make your world so small and joyless. You've got to be able to laugh at yourself.
Like that time I was so intensely in conversation while walking in the subway that I just rammed into the turnstile instead of swiping my metrocard. A group of teenage girls laughed at me. What could I do but laugh. If I saw someone else almost get severed in half by the turnstile I'd probably laugh too. I just had to laugh, hold my head high and swipe that card!
My other #sparklingtruths are those moments when I "make it work" Tim Gunn style.
Back in my executive assistant days, I worked for a man who's name sounded kinda similar to a reality star's name. He'd always ask me at the last minute to get him reservations at the most chi chi popular restaurants and when I'd call, and ask for a space for him I'd always get shot down. But I figured a way to sparkle on and save his dinner plans. I'd wait an hour or so, then call back in my (awesome) British accent and say his name just "off" enough that it sounded like the celebs name. Somehow, they always had a table available!  I felt so sneaky and so proud all at once!
Now that you've read about my "sparkling truth", it's time to share yours!
From Glaceau:
A sparkling truth is a moment when you sparkle through unexpected challenges, brushing yourself off in a bubbly style. How do you sparkle on when life throws you a curve ball? Leave a comment on this post or jump in the conversation on social media by tagging your amplification with the hashtag, #sparklingtruth.
Visit http://fruitwater.com for more information and to help you discover your favorite sparkling truths.
This is a sponsored post written by me on behalf of Glaceau fruitwater®.