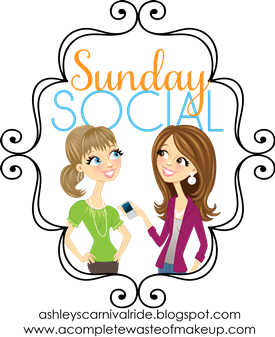 Hey girls, I'm joining up with the Sunday Social over at A Complete Waste of Makeup today!
This Week's Questions: All about 3′s
Top 3 Favorite Kinds of Food:
Jamaican – this is comfort food to me, and i love spice
Japanese – i could live on sashimi and interesting maki rolls
Mexican – spice, cilantro, lime… mmmm
First 3 Things you do in the morning:
Pee
Change and nurse Roey
Have a cuppa tea
Last 3 Things you do at night:
Take off glasses
Put on scarf
Make pillow fort
3 TV shows you NEVER miss:
Scandal
True Blood
Boardwalk Empire
3 Places you want to visit:
Macchu Picchu
Galapagos
Egyptian Pyramids
3 People you can always count on:
John
Mom
Dad
Feel free to join the Sunday Social linkup too! I'd love to see your answers.
Hope your weekend is going well. Talk to ya tomorrow!
Like this post? Check these out too: