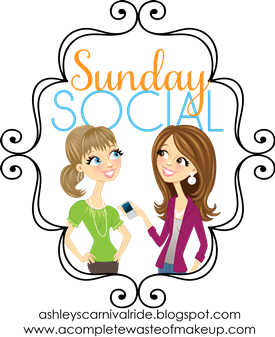 Hi guys happy Sunday Social! I'm linking up again since it's been a while since we've done one of these. Let me know your answers too!!
This Weeks Questions:
1. What is your favorite movie of all time?
I have a lot of them and they're all silly. I love Tombstone (a western!), Legally Blonde, Coming to America, Bye Bye Birdie, DanceHall Queen, Set it Off…. I consider these my favorite movies because they represent comfort to me. But they're not the movies that have moved me or entertained me the most.
2. What is your favorite movie quote?
Do you realize what a hard question this is?!
I think I quote most from Half Baked, Friday and other random older comedies but my favorite things said in movies always seem to be the asides or lil things in the background, like in Harlem Nights when Jasmine Guy's character calls for Eddie Murphy and Red Foxx can be heard in the background with his gravelly voice saying "uh oh, thats that old voodoo bitch again" I die every time I hear it.
3. What is the best movie to watch for a girls night in?
Bridesmaids! Or something else with a fun ensemble all-girl cast.
4. What is the best breakup movie?
I have no idea. Honestly I think I'd watch really bad action movies like The Expendables or something so I wouldn't be thinking about love or boyfriends or anything like that at all. Maybe something with my boo Steven Segal so I know the quality of the writing, directing, acting etc would suck balls, but I'd see a lot of kicking and punching and beating up of men. LOL
5. Who would you want to play you in a movie about your life?
Oh, well Halle Berry of course, because the physical resemblance is just so spot on. Right? ::ahem:: RIGHT?! ::stares at you, unblinking::
6. Which movie star's closet would you want to raid?
CHER or Madonna or someone else a lot of people worship. Shoot. Then I'd sell it all on ebay for tons of money and use half of the money to buy a house! The other half I'd save for Roey's college fund and take a round the world vacation for a year or two.
Honestly I don't know celeb style too much these days so I'll go with Nicole Richie cuz I think she's got a mix of classic and comfy and bohemian.
Who would you pick?!
Like this post? Check these out too: