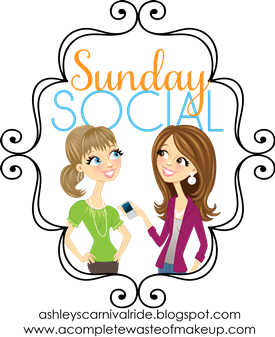 Hi guys happy Sunday Social day! I'm linking up yet again with Neely @ Acompletewasteofmakeup.com
This Weeks Questions:
1. What is your dream job?
It's so funny how dreams change isn't it. If you asked me 5 years ago I'd have said actress, now thinking about that lifestyle and being away from my kid(s) so much sounds painful. (But maybe when they're older and have no time for mama)
Oh but anyway, to answer the question: Life Coach & Writer….looks like Im living it! Owning my own biz, writing and blogging and being a mom is really the bestest for me.
Wait. No. I'm lying.
My DREAM JOB: Taster on Iron Chef and Top Chef. I'd like to just get a call, and go eat on camera and talk all about it.
Wait wait.
My DREAMIER DREAM JOB: Luxury Vacation Tester! I'd like to go to all kinds of gorgeous resorts in all kinds of gorgeous countries and then talk all about it 🙂
OK..I think that's it.
2. If you had just won the lottery and didn't need to work for money, what would you do with your time?
Oh I'd definitely work now on the nonprofit I have been creating in my mind that I'm putting off for later in life. During the school year I'd be super afters-chooling mom taking my kids to all kinds of crazy places to supplement their educations. I would also be able to travel with my kids and do volunteer work abroad all summer. I plan to be able to do that on a small scale without being a lotto winner, but if I had the dough I know I'd be able to do it for a full summer.
3. What piece of career advice would you give to someone just starting out in your field?
Learn as much as you can and always keep learning. Be yourself because it's always good enough. Write, write, write. Don't be shy.
4. What would be your ideal "just for fun" job?
Photography, hands down. Anything but wedding photography. Brides are effin' crazy.
5. What was your first "real" job?
I put myself through college working as an admin assistant at a bunch of places. My first real job was editorial assistant/customer service at DietWatch.com waaaay back in the day. What I remember most about that job is talking to John ALL day long when I should've been working.
Like this post? Check these out too: