Since I'm on the best diaper quest, I was excited to be invited to take part in this sponsored program.
I'd never purchased Tugaboo diapers before, and honestly never heard of them either. I'm glad I got to try them though because they were a nice alternative to the diapers we currently have in rotation.
The Tugaboo diapers are super light and very soft. The packaging says the inner liner is hypoallergenic which I thought was cool. I didn't realize it until reading that, I just kinda assume all diapers would have hypoallergenic inside parts…but I guess not. Nice touch Tugaboo!
On a totally separate note: The Tugaboos have a cute, happy tiger on them, and written on it is "T is for Tiger." Rohan has been trying out his T sound lately so I was excited to use the diapers as another little teaching tool. He didn't say Tugaboo, or Tiger like I tried to get him to say, but he did say Tie 🙂 and ta ta ta.
While the fit wasn't exactly right on Roey's chunky lil thighs, we still had zero leaks, and I tried them out overnight as well! The diapers are nice and stretchy though, so that and I guess high absorbancy(?) allowed for strong leak protection.
So here's a goodie for ya: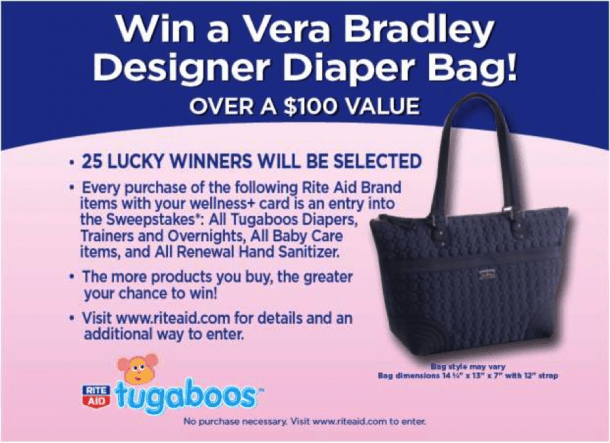 For the month of June, all Tugaboos purchases will earn an entry into the Tugaboos and Vera Bradley Sweepstakes!

With every in-store purchase of qualifying Tugaboos products using your wellness+ card at any Rite Aid store between June 1-30, 2013, you will receive an entry for a chance to win one of (25) Vera Bradley Designer Diaper Bags filled with select Tugaboos products.

To enter without making a purchase, complete this entry form now: https://riteaidtugaboos.dja.com/.

This is a sponsored post written by me on behalf of Rite Aid.
I so want that diaper bag. I busted a big old hole in the one we had. 🙁 Good Luck to all who enter!!!
Check it out! http://bit.ly/11pb9rt
Like this post? Check these out too: