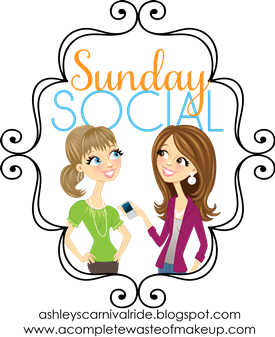 Happy Sunday Social Day!
Linking up with acompletewasteofmakeup.com today!
This Weeks Questions: Brought to you by the number 5
5 songs you'll listen to the rest of your life:
This is actually a really hard question for me.
anything by Jackie Wilson, Sam Cooke, Bob Marley, queen and Michael Jackson…and Britney…bitch
Johnny Cash's version of Hurt: Listen
Blessed by Brett Dennon: Listen
Sweet Honey in the Rock's version of No Mirrors in my Nana's House: Listen
Yuh Love by Vybz Kartel: Listen
5 things on your bucket list:
Have a best selling book
Swimming in open water with "wild" dolphins
Own my dream home
Eat my way through europe
Play with my great grand children
5 celebs you'd love to hang out with for a day:
Joe Rogan
POTUS
Prince
James Franco
Jeffrey Wright
5 things you always carry in your purse:
Cards
Epipen (except on the day I actually need it)
Lip Gloss
Phone
Random loose change and gum wrappers
5 books on your reading list:
Little Bee
It's Not Your Fault
Instructions for Happiness & Success (currently reading)
Share the last 5 pictures on your phone
What are your answers? I'm especially curious what songs you dig and what celebs you'd hang with!
Like this post? Check these out too: