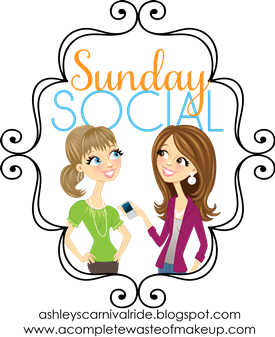 Happy Sunday Social day friends! And a very special happy 10 month birthday to my lil Sharkieboo!!! 10 months!! Geez! It's party planning time soon.
This Weeks Questions: All About Pinterest
1. What is your favorite outfit pin?
Because my head is stuck in daydreams of summertime warmth right now I'll say:
(am I too old and mothery to get away with short shorts? I sure as hell hope not, cuz I'm gunna rock em this summer and probably end up on that site about ratchet lookin' people at walmart….but i won't care.)
and if we're being honest about what I'd actually wear right this minute:
(minus the watch, cuz I ALWAYS forget to wear one. Um…can somebody buy that bag for me please? ::looks over at John::)
2. What is your favorite food pin?
Please ignore the racist mammy image in the back, and focus on the deliciousness that is a baconpancake. This is something I actually want to try, and for some reason reminds me of my cousin Brandon. I have no idea why.
And if we're talking #realtalk: This is like porn to me. I pinned this back when I was pregnant and I would just look at it…and look at it…
3. What is your favorite wedding pin?
Um….DUH!
I started on Pinterest after I was married so no wedding pins for me. John and I are gunna do a private vow renewal in 2015 so maybe I'll start pinning casual white dresses and beachscapes or something soon lol
4. What is your favorite DIY/craft pin?
I want this for my desk area. So handy and can halfway double as wall art
and this, I can actually make…..one day…and put up in the bedroom
5. What is your favorite quote/verse/lyric pin?
Right now its this one:
and I like this one, and stole it…I mean…adapted it…to use with clients 🙂
6. Share one more random pin you love.
I wanna be on a beach like this right now. (This is the bahamas) Can we talk about how perfect that sand and water look?!
::sigh::