I straight up stole this from webMD when looking something else up.  IT was part of an article about boosting fertility.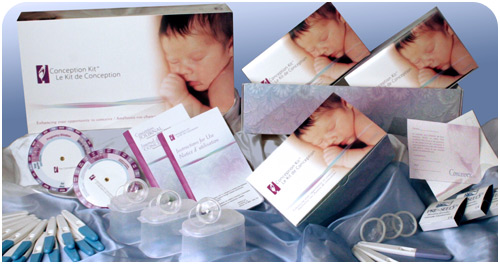 Have you heard of this Conception Kit by Conceivex?
A new kit developed by Conceivex not only offers ovulation prediction, but it also contains a small latex-free cervical cap to actually help you conceive. The idea here is to concentrate an ejaculate into the cap and insert it into a woman's body directly at the opening of the cervix. In a kind of do-it-yourself mini-insemination, it does away with the need for sperm to swim through a sometimes chemically "hostile" vaginal canal, placing them instead right at the palace gates.
Shari Brasner, MD, who has recommended the kit to patients, says it's most useful for women with previous cervical issues or for men with low sperm volume or performance anxiety.
"Short of diagnosing a cervical infection, we don't really have a test for cervical factor infertility — and it is my belief that this could be the problem for many women with a past history of treatment for an abnormal Pap smear," Brasner says.
Though she says Conceivex won't repair any defects, it is a way around them. "It's also an important aid for men with sperm concentration problems," she says.
Although Conceivex requires a prescription, it can be purchased online after completing a questionnaire reviewed by their medical doctors. The cost is $300.
This sounds so interesting! I wouldn't try it unless we start having problems conceiving, but I didn't know anything like this was even available…it's like the divacup for sperm instead of blood! (was that gross? sorry.)
Well, I'd never heard of it so I googled….and lo 'n behold: www.conceptionkit.com!
Have you heard of this? or used it? Know anyone who has?  Would you use it?
Like this post? Check these out too: