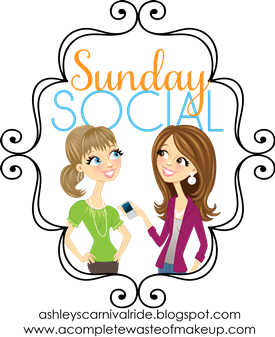 Happy Sunday girls! Hope your weekend is going okay so far. Mine has been wonderful! Linking up again for the Sunday Social. Do join me!
What is your ideal way to relax?
Ideally? A full body massage followed by a nap.
Realistically? A cup of tea, a snuggly bed, and a warm blanket. Husband and son cuddled next to me is optional depending on how quiet they are. Maybe a book or my journal with me as well.
Where is your favorite place to be?
Um….on vacation! I love waking up to the warm sunshine, knowing I don't have to cook, clean, stress, or worry about anything other than relaxing and enjoying myself.
That can be whether we're at a resort somewhere or just down in Florida at my grammy's house. (Counting the days til I go back to gram's)
Who do you consider your biggest role model?
It would have to be my mom, with my aunts and gram coming in a close second. They all raised me and were my most direct female influences growing up.
What does your life look like in 3 years?
Ideally, 3 years from today I am a work at home mom to Roey and his little sister
, I'm fit and healthy, my coaching business is flourishing, my book has been published, I have my masters finished and am looking at phd programs, John's kicking butt in med school and we live in warm and sunny south Florida near my family in a cute lil house with a big yard and a garden that my aunts help me keep plants alive in.
If you could go back and change one decision what would it be?
Well, as I sit here perusing dentist sites for invisalign pricing, I'd go back and visit my dentist the day I lost my retainer and get a new one instead of thinking, Oh, my teeth'll be fine!
What is your biggest accomplishment in life thus far?
Turning my life around and being a great mommy to the most amazing lil nugget in the world